Monitoring of handling equipment for lean logistics
ABOUT FORKLIFT MONITORING
collects data, documents, informs and verifies
ONLINE LOCALIZATION
position monitoring; immediate incident location identification; route monitoring and history, movement optimization; analyses of map and state data visualizations, the software shows the map of your facility
OPERATION
operator log-on and authorization; driving and handling identification; prevention of driving by unauthorized persons; log-on helps evaluate staff performance; fork overload detection; proof of staff responsibility…
HEALTH AND SAFETY
equipment operation and goods handling; monitoring of vibrations and collisions with online notification; on-the-spot problem solution and immediate reaction; adherence to movement and speed limits
EFFICIENCY OF USE
overview of handling technology's state and position; aggregated trip information; electronic journey log; evaluation of productivity, capacity and utilization planning
WHICH FIELD DO YOU SEEK IMPROVEMENT IN?
when is fleet monitoring viable
An abundance of logistics indicators in a matter of minutes
real-time information acquisition
organization of work, increased productivity, fewer defects
improved logistics efficiency and planning precision
increased level of safety, equipment and goods handling
operation, motivation and performance of staff
administrative and reporting aspects, precision and transparency of data
forklift utilization, capacity optimization; exchange, purchase or transport of equipment
potential resource and money savings
accident, loss, defect, repair, downtime and incident cause identification
LOWER COSTS

up to 6% reduction of fleet
COLLISIONS

up to 50% reduction of strong impacts
EFFICIENCY

up to 14% increase in operation efficiency
MAINTENANCE

up to 15% reduction of maintenance costs
UNECONOMICAL TRIPS

up to 18% reduction of uneconomical trips
GAS CONSUMPTION

up to 5% reduction of year on year gas consumption
FORKLIFT TRUCK MONITORING PURPOSE AND BENEFITS
for every forklift type, by every manufacturer
report precision, simplified administration
increased health and safety
fleet planning and investment control
well performing, productive and disciplined operators
increased material handling quality
work management, planning and control
continuous material flow
incident registration and immediate solutions
efficient logistics activities
improvement of loading and shipment procedures
optimum utilization of operating resources
reduction of accidents, losses, idle trips and downtime
equipment maintenance savings
constant savings in costs
integration with other enterprise software
INDIVIDUAL SOLUTIONS AND SPECIAL FUNKCTIONS
ABOUT ELECTRIC CRANE MONITORING
usage and safe operation
OPERATION
Identification and registration of handlers. Registration of handler activities with time and spatial data. Immediate identification of the offender in case of an incident, along with the required operative intervention. Staff salary and remuneration documents, staff optimization documents.
USAGE
Monitoring crane operation by monitoring the movements of the crane in each of the three axes. Distinction of loaded and idle movements and the duration of useless downtime. Performance parameters, intensity and comparison of utilization in the respective working shifts or in the specified periods.
HEALTH AND SAFETY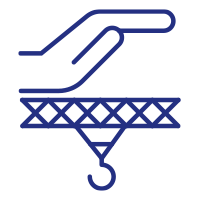 Safety of authorized handlers to prevent accidents, malfunction and decrease material losses. Blocking unauthorized operation in case of handling attempts. Influences maintenance and savings.
IS FORKLIFT MONITORING IMPORTANT FOR YOUR COMPANY?
For further references to other telematics solutions, please click here