Truck monitoring and freight transport logistics
KEY TRUCK MONITORING FUNCTIONS
GPS TRIP MONITORING
on-line GPS localization; driver identification; real-time movement monitoring; trip overview and statistics; electronic journey log; online vehicle state and operating parameters; trip monitoring and archival; custom area creation and movement control; POI management and interactive search on the map
TACHOGRAPH AND AETR PREDICTION
driver identification; online driver state management; reading and transferring data from the driver's card; remaining working potential of the driver; activity and rest time overview; road checks without fees and sanctions; archival and export in accordance with the law; easier evaluation by the control centre operator, trip planning
ALLOWANCES AND ADMINISTRATIVE TASKS
automatic daily allowance calculations; simple payroll processing; accounting documents; integration with accounting software; electronic journey log; service billing based on correct transport documentation; vehicle cost management – fuel; servicing; insurance…
FUEL MONITORING
fuel level metering in the fuel tank; fuel tank security; fuel consumption overview; fuel consumption analysis and calculation in accordance with the nature of the work performed; consumption and fuel state from FMS; logs every movement in the fuel tank even with the engine switched off; protection from losses and theft; triggers alarm in case of suspicious level decrease; data import from refuelling documents
TRANSPORT MANAGEMENT AND CONTROL
mobile office software in the vehicle
comprehensive transport information
control centre overview and driver task management
free communication with the driver even in roaming
TIR trip planning and online verification
transport management and reporting
operation performance – electronic journey log
integrated navigation system
simplified transport administration and fast billing
disclosure of information to 3rd parties
TRAILER MONITORING, CONNECTION OF PERIPHERALS
trailer identification and management
trailer connection and disconnection time-stamp
cargo space temperature monitoring
door opening detection
lower costs (penalties, malfunctions, maintenance)
TRUCK DRIVERS' DRIVING STYLE
driver behaviour for benefits, motivation and savings
driving style and analysis of the various drivers
identification of common driving errors
optimization of speed limit and uneconomical driving
fuel consumption and cost decrease
savings in hidden costs, such as idle running
vehicle lifetime increase
adherence to the specified criteria and restrictions based on objective output
safer trips and road traffic
INCREASED TRANSPORT SAFETY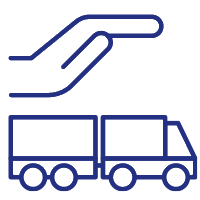 verification of the defined safety parameters (speed, fuel consumption, defined position and movement)
door state and security
alarm activation upon various states (door opening, fuel loss, temperature change, unauthorized movement …)
vehicle protection in unprotected areas
mechanical security of the fuel tank by using a small sieve
fuel tank opening detection
prevention of unwanted incidents and faster intervention
TIMOCOM VEHICLE MONITORING
Data interchange with the TC eMap platform for increased efficiency and safety. The users of this application may monitor their vehicles using our telematics solution in the commonly known free transport search and goods exchange environment.
INDIVIDUAL SOLUTIONS AND SPECIAL FUNCTION
TIMBER TRANSPORT MONITORING
We have developed this solution for the needs of our customer, who requested precise billing documents for his suppliers, to optimize the transport within the city on the loading service roads and to keep the timber amounts and origin under control.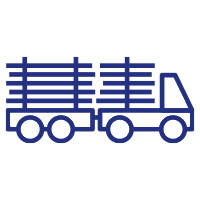 trip identification
operating parameter overview (position, speed, trip start and end, stops, etc.)
key logistics data (timber origin, loading and unloading history, trips, delays …)
effective loading and unloading management
precise billing document and cost control
visualization and processing of data provided by various GPS providers
processing of logistics data in cooperation with other software
GPS compatibility of monitoring in case of transport for multiple customers
Quick fix potential incidents or complaints
IS IT POSSIBLE TO OPERATE WITHOUT VEHICLE MONITORING AT ALL?
If you can operate without information, sure. Be frank with yourself. Who doesn't need to have and use information? To exchange information between the office and the vehicle, you and your customers, your drivers… Without real-time data and vehicle fleet history – measurable, true and relevant – you cannot know your real costs. It's hard to work and make savings without a good source of information, such as monitoring. You can never be sure where and how much money you lose, who causes useless costs, or with what. Providing and linking information is key to an efficient and productive fleet with permanent savings in operating costs.
CONTACT US!
"Price is what you pay. Value is what you get." /Warren Buffett/